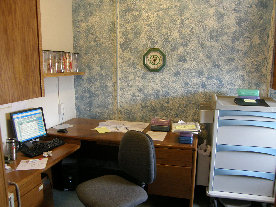 Missouri State Statute 221.120 states the Daviess/DeKalb Regional Jail must provide access to medical services to all detainees housed within the facility whether they are indigent or not.  The Jail's current health care provider is Advanced Correctional Healthcare based out of Peoria, Illinois. They supply the jail with an on-site nurse, a facility appointed doctor, a facility appointed pharmacy. Emergency services are provided by the local hospitals.  Detainees are expected to utilize the Kiosks located in their living quarters to request medical services.
The Daviess/DeKalb Regional Jail is supplied with Nursing staff (L.P.N.s), 7 days a week.  A facility doctor comes in once a week, and an on-call doctor is utilized 24 hours a day, 7 days a week.  The jail has a pharmacy that sends medication in by the bubble pack and utilizes a local pharmacy to access medication when they need to.
The Jail also utilizes outside Dental services for emergency extractions when required.
To contact Advanced Correctional Healthcare:
Advanced Correctional Healthcare, Inc.
3922 W. Baring Trace
Peoria, IL 61615-2500
Toll Free:  (866) 719-8100
Phone:      (309) 692-8100
Fax:          (309) 692-8106